On Sunday Mayor Cllr Ralesole commemorated the legacy of the late Ntate Moses Mauwane on his Birthday at Pella.
Pella Cemetery – MKLM Mayor Cllr Ralesole Diale led a delegation comprising of Kgosi Gasebone, Representative from Kotane Family, Acting Speaker Cllr George Moatshe, Portfolio Head of Finance Cllr Lawrence Kapari, Manager in the Office of Mayor Mr Motlhabane and others in Commemoration of the late Stalwart Ntate Kotane.
Sunday on National Women's Days, was also Birthday of Rre Moses Mauwane Kotane who was born on the 09th August 1905.
The Mayor, Acting Speaker, MMC, Kgosi Gasebone and one of the elders from Kotane Family laid a Wreath as part of acknowledging and celebrating the legacy of Ntate Moses Mauwane Kotane.
Delivering Short Message, Mayor Cllr Ralesole Diale stated that as Moses Kotane Local Municipality annually we put everything aside on our busy Schedules to come and Honour the Legacy left by Bo Ntate Moses Kotane. They have fought for the Democracy we are enjoying today. Mayor Concluded by asking Ntate Moses Kotane to speak to other ancestors and God, so that they end Covid-19. Cited that just like in the Bible, Israel People were punished for they had sinned so May God forgive us said Mayor Diale.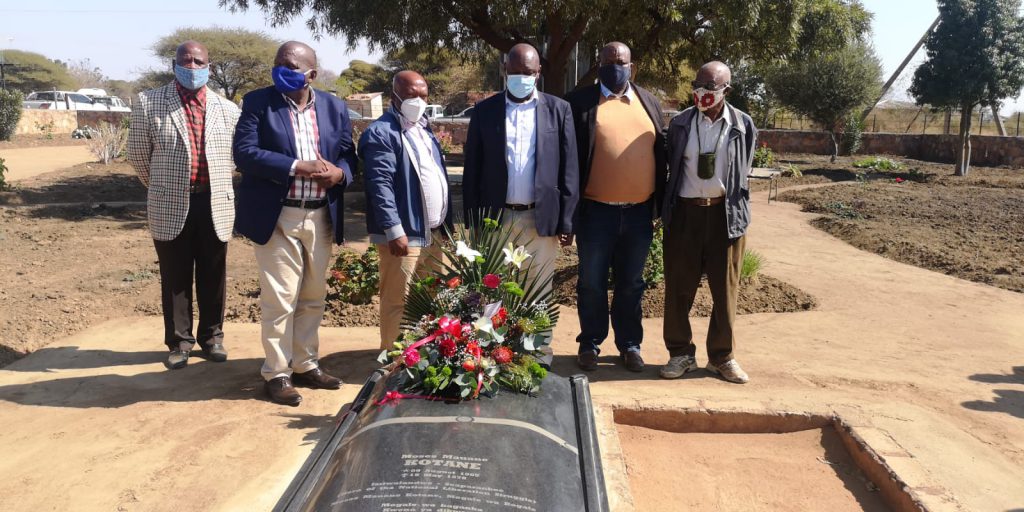 Acting Speaker Cllr George, stated that… Indeed the Municipality will continue with what Bo Ntate had started which is fighting for People. As Municipality, we are proud to continue honouring and acknowledging Ntate Kotane whom the Municipality is named after.
Portfolio Head of Finance, Cllr Kapari stated that he is Happy to see Ntate Kotane is given Respect deserved. Stated that, at Russia where he was first laid to rest, in that Cemetery he was honoured. So he is happy to see efforts done by us to Honour Ntate Kotane.
One of the Elder from Kotane Family, thanked the Municipality from the Bottom of his heart for continuing upholding the Legacy of Ntate Mauwane Kotane. As a Family they are Proud to see this.
Issued by: Communications Unit of Moses Kotane Local Municipality